Recycling is the future. It's also our history.
For some, recycling may seem like some recent trend. But here at CMC, we've been at it for more than a century. CMC began in 1915 as a humble family-run scrap metal processing facility in Dallas, Texas. Since that time, we've grown to become a Fortune 500 company and global leader in metals recycling, manufacturing and fabrication. With recycling centers spread across the southern and eastern United States, CMC has the capacity to process and ship more than four million tons of scrap metal each year.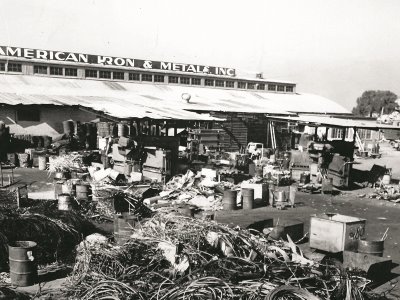 CMC's original recycling location, American Iron & Metals in Dallas, Texas.
Find a CMC Recycling Location Near You
Working in tandem with partners throughout the United States and around the world, we buy, sell, process and manage scrap for companies and organizations of all sizes. At CMC, we take great pride in delivering unparalleled service for our customers. But we're equally committed to treating our suppliers with respect and fairness, while maintaining high standards of environmental responsibility for the communities in which we operate.
METAL CAN BE RECYCLED. LIVES CAN'T. IT'S WHY WE PUT SAFETY FIRST.
At CMC, we believe there's only one way to do a job - the right way. The way that is correct, consistent and safe for all involved.
The families of our employees depend on them to come home safely each evening - and our employees depend on us to provide a safe working environment. It's a responsibility we take seriously.
That's why CMC goes to great lengths to create and promote a safe and healthy environment for all employees, contractors, vendors, partners and customers. Going on-site? Great - join us in our effort! Please follow all site-specific policies and instructions to help ensure your safety.
AN EFFICIENT SELLING PROCESS
CMC Recycling has more than one hundred years of experience purchasing, processing and dealing in scrap metal, working with everyone from the general public and individuals, commercial and industrial businesses and major corporations worldwide.

We are committed to ensuring a smooth and efficient process for everyone recycling their ferrous and non-ferrous metals. Our knowledgeable and experienced staff can help provide a custom solution for maximizing the value of your scrap metal.

CMC has a standing commitment to carry out our recycling operations in an environmentally friendly manner, and to strictly adhere to all applicable laws and regulations.
ABOUT CMC
Since getting our start more than 100 years ago, CMC has grown into a leader in the commercial metals industry. As the first steel manufacturer in the United States to adopt a vertical integration business model, we understood the importance of connecting our businesses, both up and downstream, to facilitate operations.
Recycling is the backbone of CMC – not only is it how we got our start, but it's also the primary source of ferrous metal that feeds our mills. Our strategically located recycling facilities service everyone from individuals with a trunkful of aluminum cans, small and medium businesses and major national companies who produce scrap as a byproduct of their production processes.
CMC's recycling facilities and use of scrap as the primary feedstock for our mills, recycling 13.6 billion pounds of metal each year.
CMC operates six electric arc furnace (EAF) minimills, two EAF micromills and one rerolling mill strategically located throughout the United States. The scrap taken in at our recycling facilities is processed and used as the primary source of ferrous material for our steel mills.
In total, CMC has the capacity to produce more than five million tons of finished long steel products, including rebar (both traditional and threaded), t-post stock for fence posts and merchant bar products (including angles, channels, flats, squares and rounds), in addition to wire rod and semi-finished billets.
Drawing on both their strategic locations and CMC's extensive logistics network, customers can rely on CMC to deliver their steel quickly and efficiently wherever they need it, when they need it. Learn more on cmc.com.
Our rebar fabrication business has more than 60 years of industry leadership, providing estimating, detailing and fabricating services for customers to meet their unique specifications and requirements. With more than 60 state-of-the-art fabrication facilities located all across the United States, CMC offers everything from rebar, rebar accessories, fence posts, wire mesh and more.
Our fabricating facilities have a total of nearly 2.5 million tons of fabricating capacity annually, meaning we can meet your needs with on-time delivery, wherever your project is. Our dedicated team will work with you to develop tailormade solutions for any project. Learn more on cmc.com.